Pre-Beta 0.6.7 patch arrives on Wednesday!
Patch note:
Optimized map scale.
The Survival map has become more compact, which improves the appearance and allows players to more easily see the buildings of other Vikings. Also reduces the time it takes to reach them. This is a map rebuild, so if any issue with spawn appears and suicide does not help, please delete the game saves here: C:|Users|*YourName*|AppData|Local|VALHALL.
Added small settlements.
You can find camps and small settlements on the map. They have chests with random loot (gold, weapons, resources).
Added hostile camp bots logic.Bots patrol certain locations and protect chests. Archers attack from towers when see you so you might need a shield.
Viking raiders are looking for you around the map from time to time. If you try to defend yourself in a building, they will start destroying it. On the way to their goal, if they see other players, they attack them.
Default hotkey for opening crafting menu is R. Now you can craft shields, bows, arrows, etc. More items will become available with updates.
Arrows are now pickup items. You can also pull the arrow out of your body. There is an additional UI notification showing the number of arrows in your inventory, so you don't need to put them on your quick bar.
Added new dual wield & shield system.
You can now dual-wield any one-handed weapon, and even a torch. This allows, for example, to illuminate the path with the left hand, and in the right to have a sword ready for battle. You can also switch them, so feel free to do the opposite. You can still attack with a torch in any hand. Currently, Wheel Down is used for left hand attacks. The first equipped slot is the right hand, the second is the left hand.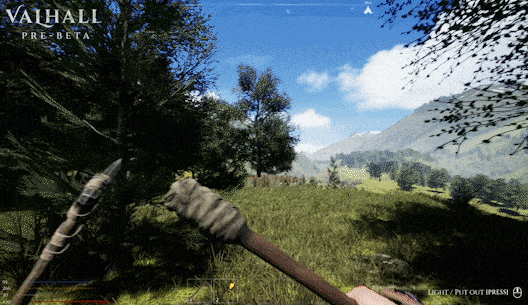 Added character sleeping.
When a player leaves the game, his character automatically goes sleeping where the player left. You can loot sleeping players.
Added option to select spawn point.
Added bed you can use as a spawn point.
Added underwater post effect and damage.
Added key binding option for building and hammer throw.
Added battle cries for bots.
Added compass and waypoints.
Increased the visibility range of players.
Increased foundation height for easier placement.
Increased torch light radius.
Decreased fog density for visual and visibility improvements.
Fixed stopping the respawn of bots in the Weapon Test mode.
Fixed building on the water.
Fixed sprint acceleration, character doesn't slow down anymore.
Fixed Mjolnir idle animations.
Fixed weapon not dropping after character death in Survival.
Fixed the highlight of a weapon equipped by another player as a pickup item.
Fixed archer bot sometimes shoots while standing sideways to the player (looking in a different direction).
Fixed archers sometimes have no arrows.
Fixed torch widget remaining forever after death.
Fixed collision for stairs so that bots can climb it normally.
Fixed the sound of the building and on / off of the torch is heard throughout the map.
Fixed bushes that could not be chopped. You can now chop down every tree / bush on the map.
Main known issues:
Customized weapon equip doesn't work correctly after the latest inventory rework.
Latency has too big influence on block (VFX could not work as well as block quality is not we are aiming for).
Some bots in singleplayer have None instead name.
In rare cases game process doesn't finish on its own for long time.
Weapon impulse bugging. Sometimes no impulse or too big.
Characters don't play movement animations correctly. We need to fix upperbody bones rotation during movement animations.
Important!
Some bugs can appear due to conflict with temp / saved files of previous VALHALL versions on your PC.
If you meet an unlisted issue then:
– delete all game saves here: C:|Users|*YourName*|AppData|Local|VALHALL.
– uninstall the game through Steam
– delete manually game folder in your Steam folder
The future patches bring:
New Survival elements and features.
Dynamic weather.
Items durability.
New gathering options.
New characters and equipable armor.
Bots logic upgrades.
Other combat improvements and bug fixes.