Vikings!
The promised huge Pre-Beta patch 0.6.5 has arrived somewhere in Midgard!
Let's raise a mug of mead and go choose the best place to build your settlement.
Before diving into this, we want to mention Red Lath, who shared the correct answer to the previous question: "How did the Vikings make and use charcoal?" in the comments under the previous update. Related Steam awards have been granted. Thanks!
Pre-Beta 0.6.5
Survival game mode tests have been started.
Keep in mind that this is only the first patch with Survival, and there will be a lot more mechanics and content coming in the next updates!
Patch note:
Added Survival game mode.Multiplayer and singleplayer. 3 server regions are available at the moment (Europe, North America and Oceania).
Added new inventory system.We have reworked the inventory system. It is much more functional and has a new UI. Now you move items manually or automatically, drop them by dragging or selecting an option, show tips, use consumables, and more. By default, the In Survival inventory can be opened by pressing TAB.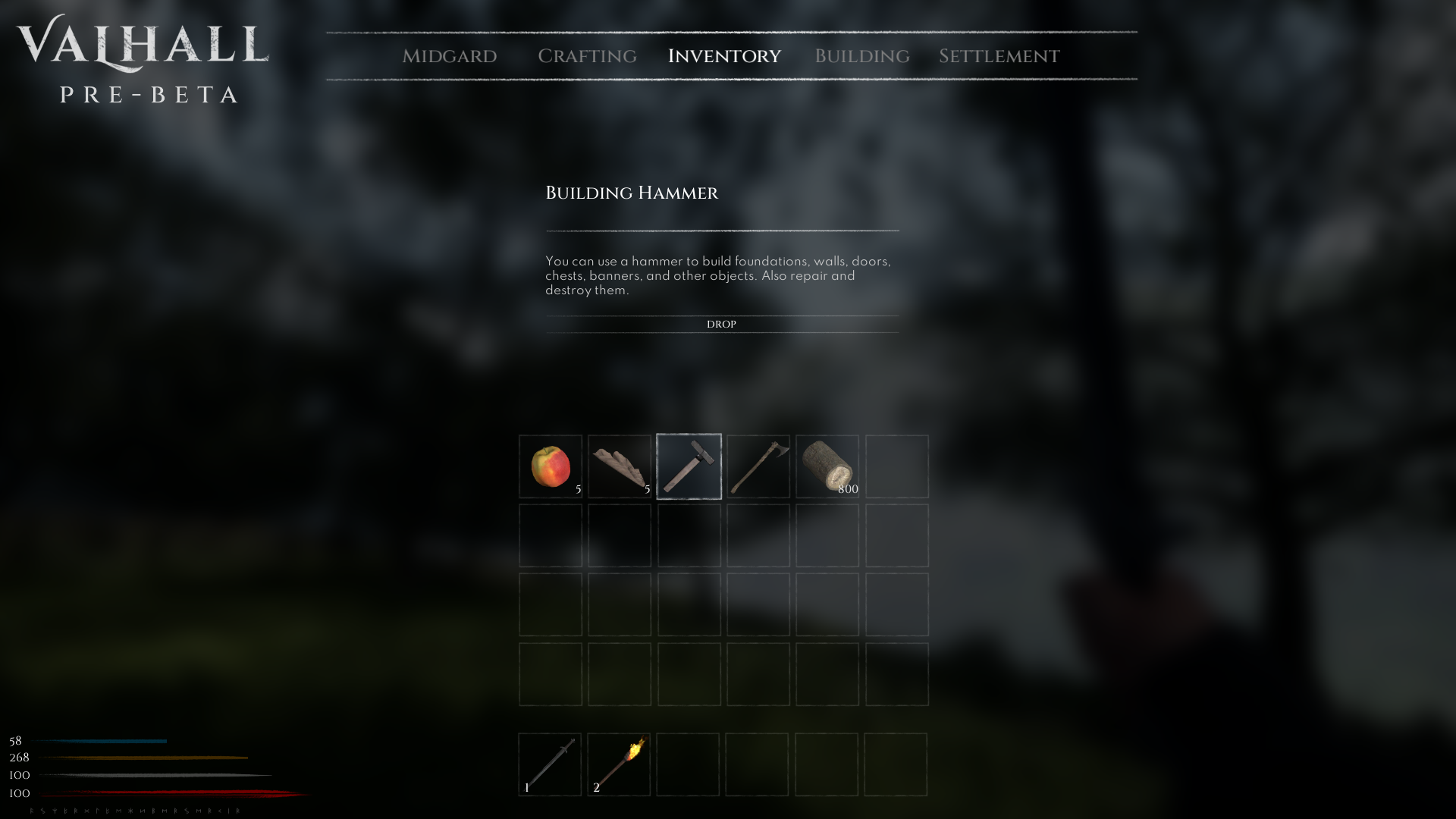 Added wood gathering.
Chop trees with lumberjack axe to gather wood. They respawn after some time if nothing blocks it.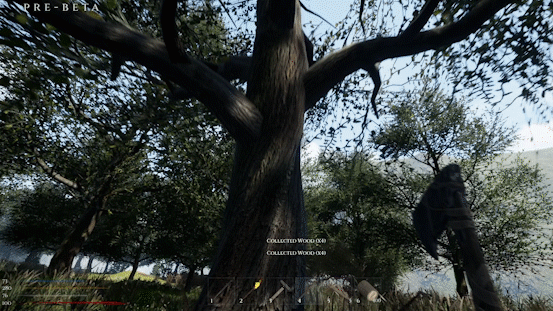 Added apples falling from the trees.
When you hit trees there is a chance some apples will fall on the ground. You can pick up them. They are physical objects so can roll away 🙂
Added building.
Using a hammer you can build with different objects. By default, build menu can be opened by pressing Q while the hammer is equipped. There is a foundation, walls, floor, roof, doorway and other building parts. We will be adding more content here with patches so that you can build not only a house, but a powerful settlement. You can also switch to Repair and Destruction modes. All buildings have health points and can be destroyed.
Added doors openable in both sides.
Added wall torch.
Added consumable items.
You can use bandage to heal or eat apples.
Added water driking.
Added chest to store items.
Added banner to claim your land.
Added saving.
Autosaving and saving at quit. For singleplayer we have more saving options in plan.
Added updated Weapon test mode.
Added characters logic optimization to allow more players/bots on the map.
Added dropped items outline when aiming so you could find them easier.
Added death hit from Mjolnir.
Added different pause menus for game modes.
Added smooth physical items drop.
Added main menu level and UI improvements.
Progressed in Survival map optimization, around 15 fps gain (depending on machine) in comparison with the previous patch.
Optimized game size, free 3gb+.
Temporarily turned off Oceania Deathmatch server.
During work on Survival we faced a huge amount of bugs that were fixed straight away before its first version publication. Such as game freeze after first tree hit, inventory stops working after drop, game crashes, and many others.
Fixed torch fire VFX not showing up.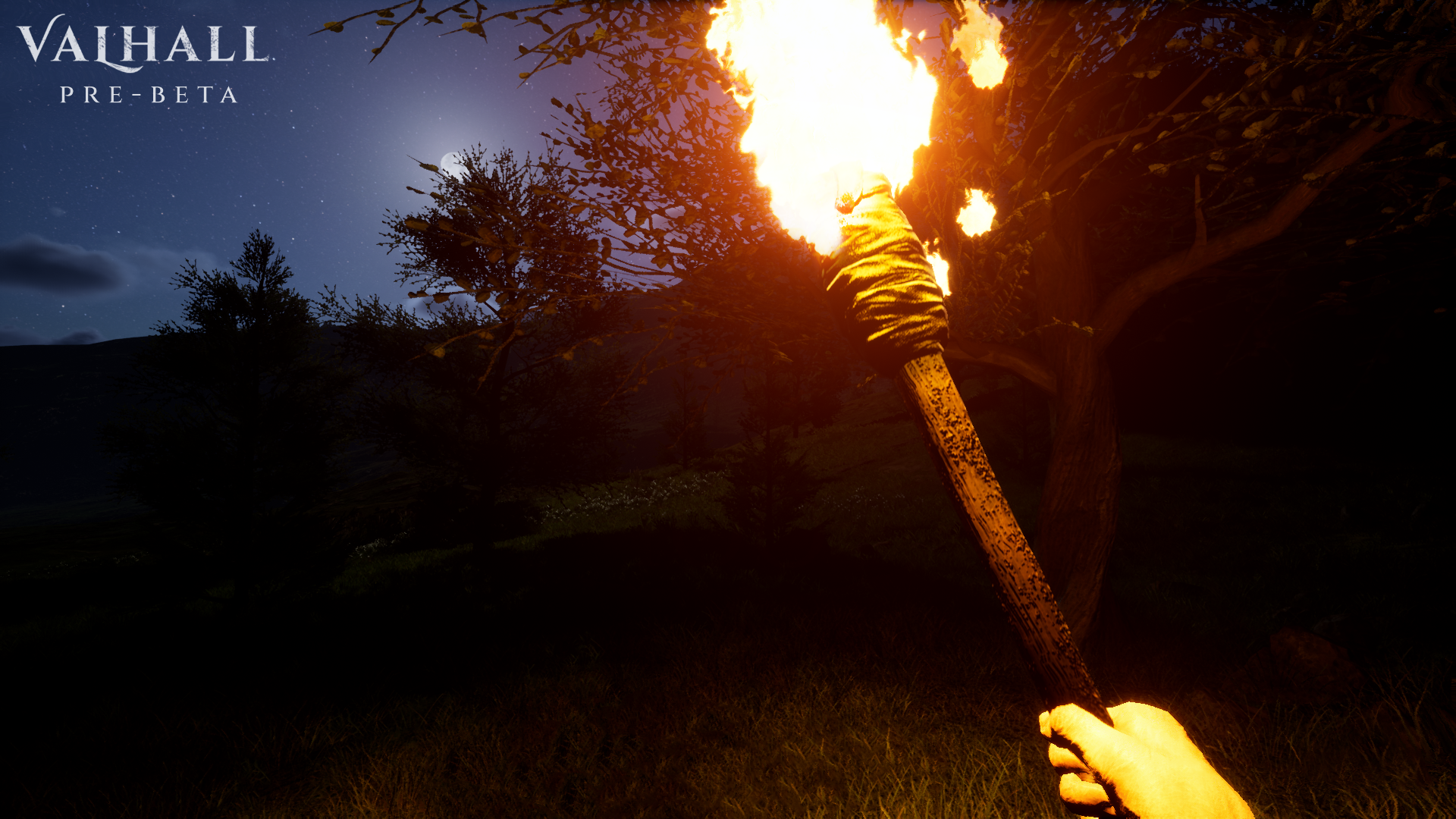 Fixed sword is not visible when shield equipped.
Fixed random character dissappearing.
Fixed double sound from hit.
Fixed slowed down lower body animation.
Fixed possible crash after suicide.
Fixed some actions playing third person perspective animations instead of first person.
Main known issues:
Customized weapon equip doesn't work correctly in this patch.
Latency has too big influence on block (VFX could not work as well as block quality is not we are aiming for).
Destructed building textures disappear.
Some bots in singleplayer have None instead name.
In rare cases game process doesn't finish on its own for long time.
Weapon impulse bugging. Sometimes no impulse or too big.
Characters don't play movement animations correctly. We need to fix upperbody bones rotation during movement animations.
Dual wield weapons is temporarily turned off while we are upgrading inventory.
Important!
Some bugs can appear due to conflict with temp / saved files of previous VALHALL versions on your PC.
If you meet any unlisted issue then need to:
– delete all game saves here: C:|Users|*YourName*|AppData|Local|VALHALL.
– uninstall the game through Steam
– delete manually game folder in your Steam folder
The future patches bring:
New Survival elements and features.
New gathering options.
Crafting.
Dual wield back with fixes.
New characters and equipable armor.
Bots logic upgrades.
Other combat improvements and bug fixes.
We keep pushing to bring you more content and increase the playability asap. Stay tuned!
Skål!
Blackrose Arts